ELYSIEM SALON POLICIES AND PROCEDURES
Welcome to Elysiem! Thank you for entrusting your pets with us. Elysiem'smain objective is to ensure the safety and happiness of your pets.
Elysiem Salon's mission is to provide our clients with individualized attention by employing an intimate appointmentbased scheduling system.
The following are some of our business' everyday policies to ensure a positive and safe styling experience.

ELYSIEM SALON SATISFACTION - GUARANTEED
Beauty and Satisfaction –Elysiem'sGuarantee.
If you are unhappy with your dog's final style, please ask to speak to the stylist who provided the services before you leave Elysiem; and if you return home to find that the final style is not to your satisfaction, please call the salon to discuss potential options.
Your dog's comfort, style, and the pet parents strolling proudly with their furry baby is our vision of Elysiem'ssuccess.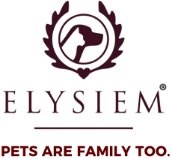 ELYSIEM SALON APPOINTMENT SCHEDULING
Elysiem Salon is an appointment-only and non-caging salon. We try to take less dogs in order to have a stress-free environment and better quality of styling. This ensures your pets will receive special attention and helps them acclimate to their home away from home
Appointments can be made on the online booking system, through our email, over the phone, or during walk-in visits. Online scheduling is subject to the stylist's approval and based on their availability.
We schedule appointments in 3-month blocks. For example, at the end of February, the booking system for April through June will be made available for booking new appointments. Please make sure to schedule your appointment as far in an advance as possible; it will be harder to "squeeze in" clients when they call last minute.
If a client is "no-show" to a scheduled appointment, or same day cancellation, a cancellation fee of 75% of the total grooming price will be charged to their account. The pricing list is available online.
We also have a waitlist where you can opt-in in case of last-minute availability and reach out to clients when scheduling changes are made.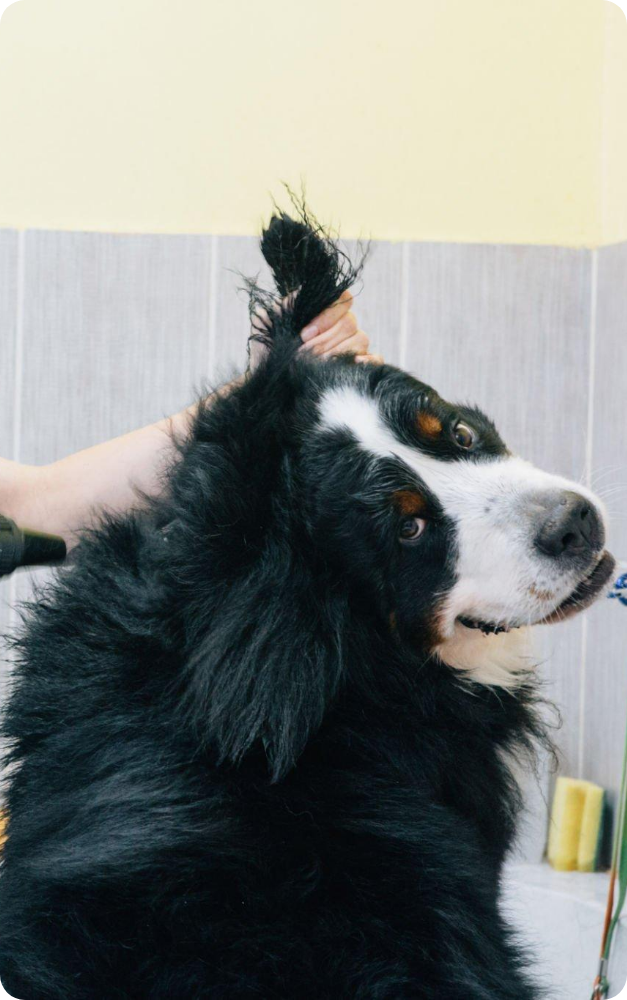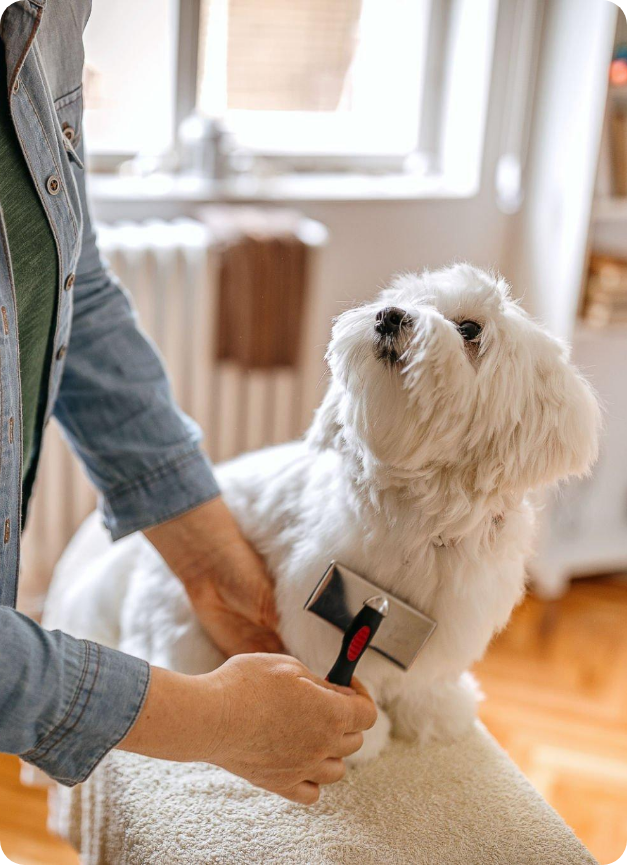 ELYSIEM SALON APPOINTMENT ARRIVAL TIMES Pt. 1
The main goal for our scheduling system is to assist Elysiem' s stylists in managing their daily schedule and to prevent rushing the pet salon experience or quality of grooming.
Our scheduling system relies on the accuracy of drop-off and pick-up times to be able to accommodate all clients for the day –arriving late can impact all subsequent appointments. Any clients that are late can have their appointment cancelled, but if we are able to receive your pet after 15 minutes a $30 late "acceptance" fee will be added to the client's final invoice. After 30 minutes it is, groomer's discretion to accept or reschedule client's appointment.
We communicate with clients through several means of communication. Please be aware of our messages and reply in a timely manner.
We do recognize some pets who do not enjoy grooming as much as others might become unruly, which may require an additional stylist assistance –if so, a handling fee of $25 will be added to the client's final invoice.
ELYSIEM SALON APPOINTMENT ARRIVAL TIMES Pt. 2
Please arrive on time for your pet's appointment to ensure that there is enough time to style your pet(s) and to help keep our schedule for the day on time. Elysiem Salon opens at 9 a.m., so please arrive at the time of opening and not prior (unless you have an earlier scheduled appointment) so we can make sure that someone is available to receive you and your pet(s). If you are running late for your appointment, please call the salon location where your appointment is made immediately to make sure we can still take your pet for the appointed day.
The contact for Elysiem Bethesda is 301-718-8400 and contact for Elysiem Park Potomac is 240-499-8330.
We ask that you please have all dogs on a leash when entering and exiting the salon. This is to ensure the safety of your pet and others. Please ensure your pet(s) relieve themselves before dropping off and checking-in. Provide any grooming instructions or personal shampoo(s) to your stylist at the time of checking in.
We ask that you please have all dogs on a leash when entering and exiting the salon. This is to ensure the safety of your pet and others. Please ensure your pet(s) relieve themselves before dropping off and checking-in. Provide any grooming instructions or personal shampoo(s) to your stylist at the time of checking in.
Late pick-up fee will be assessed 30 minutes after the client has been notified by Elysiem. A $10 additional fee will be assessed after the initial 30-minutes assessment and thereafter until pick-up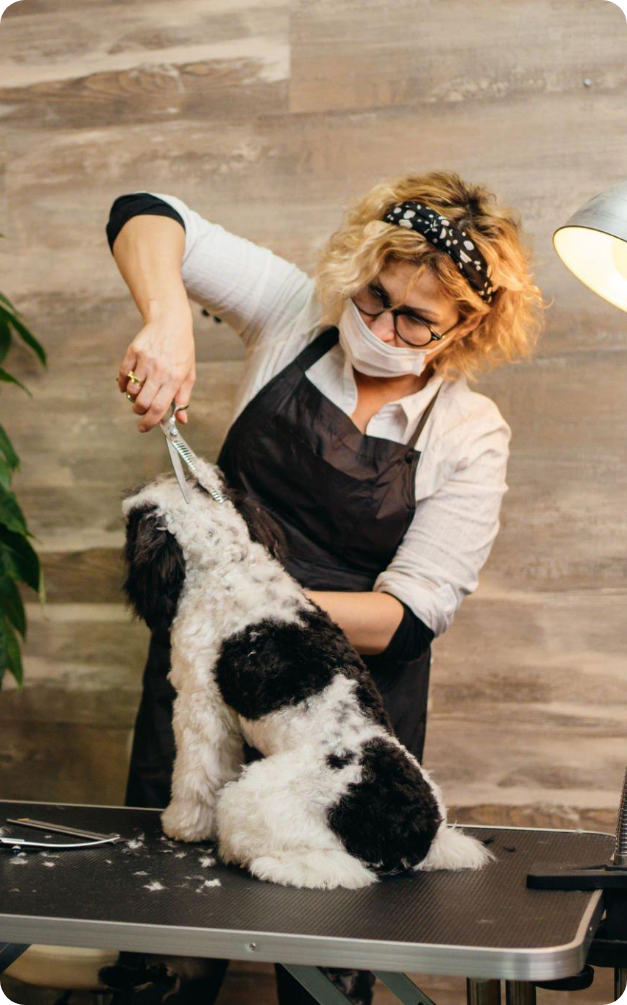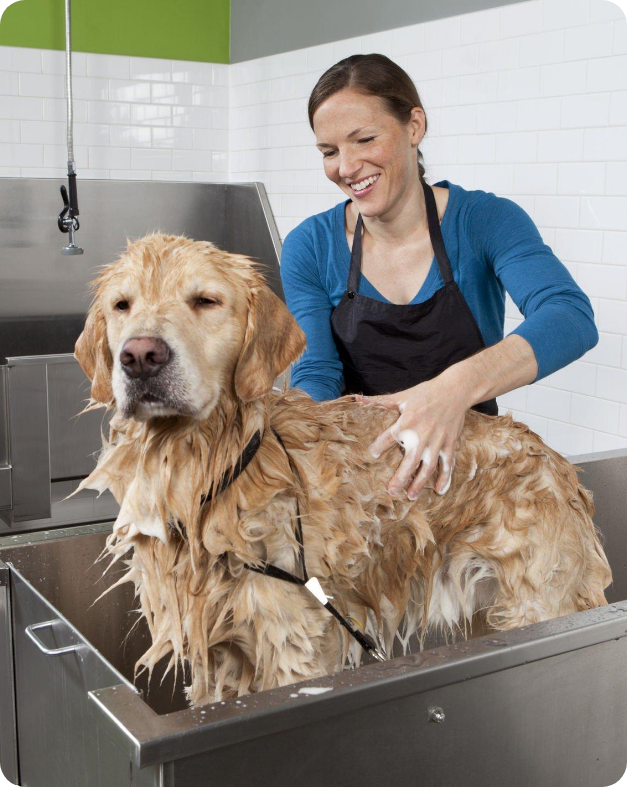 ELYSIEM SALON GENERAL STYLING PROCESS
There are several things to keep in mind when your dog is being styled at Elysiem. They are required to be bathed before each styling. A clean pet is easier to style than a dirty one, plus will assist in keeping the equipment wear-and-tear to a minimum.
Depending on how well the dog handles the bathing and drying process, it may be difficult to know how long your pet will take to be styled. Our goal is to have all pets done within a 2 to 3-hour window, but it depends on your pet's ability to remain relaxed throughout the salon experience.
If we cannot honor the styling request, we will notify the pet parent of other options, and together, develop a "moving-forward" styling plan.
The ultimate goalis to have your loved one experience the most professional Elysiem experience as possible on every visit.
ELYSIEM SALON DEMATTING PROCESS
Elysiem is a pet first, best interest, and well-being salon.
When carrying out a health check, should the client's dog coat be matted, the client will be contacted immediately to discuss the options if it involves a groom contrary to their original consultation.
In the event of any dog needing a trim very low due to extensive matting, the client will be notified that irritation may occur. The uncovering of nicks, cuts or other potential problems which have been hidden by the matted hair may also arise.
❏The client should be aware that there is a much higher risk that their dog's skin could be nicked with the clippers as the blade has to get underneath the matts to remove the coat. Every effort will be made to avoid this happening.
❏There is also a strong chance that the dog's skin will become irritated during the clipping process.
❏Medicated shampoo will be used to help soothe any irritation that may occur.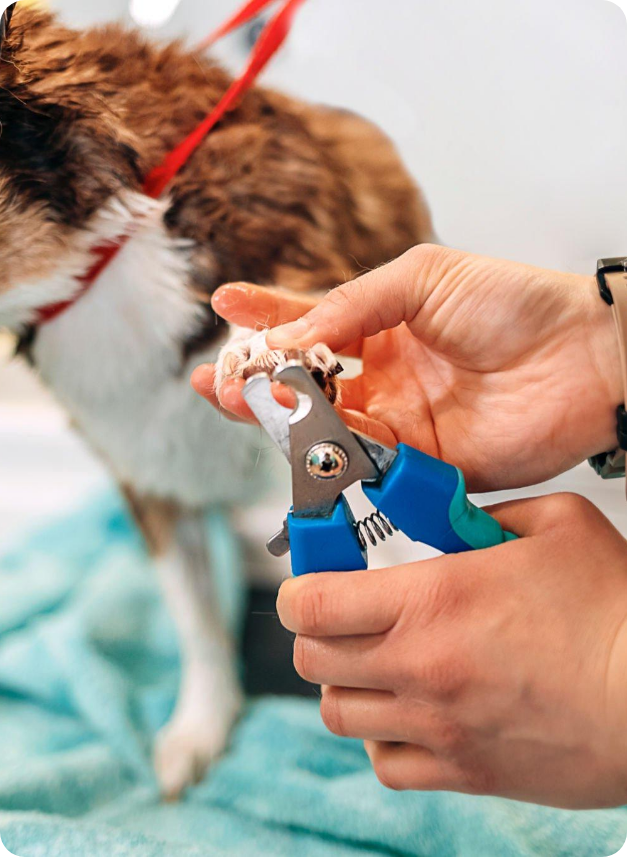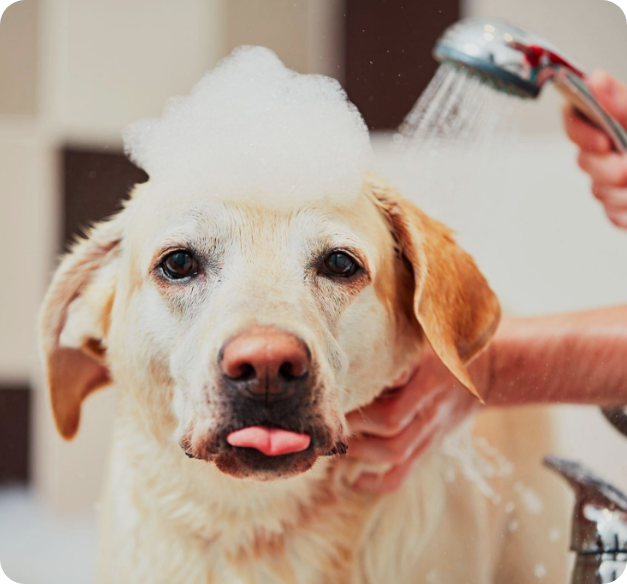 Elysiem shall not be held liable for any after-grooming effects of clipping a matted coat, or any problems uncovered on a badly matted/neglected coat. This could include but is not limited to the following:
❏ Itchiness
❏ Skin redness
❏ Self-inflicted irritation or abrasions from excessive external
rubbing or licking
Elysiem will not be held liable for any of the aforementioned associatedprocesses and all medical problems that may be uncovered and/or occur during the demattingprocess. Should the client's dog require veterinarian care after or during the process, Elysiem will not be responsible or liable for any veterinarian fees
ELYSIEM SALON CREATIVE DESIGN
Are you looking for something a little different from your furry friend's next grooming appointment? Perhaps a little pop of color?
Elysiem offers pet safe semi-permanent, non-toxic hair coloring. Coloring design results vary with coat type and breed. The coloring process is incorporated into the bathing process.
If your pet hasn't had color treatment before, your stylist will do a patch test first.
We do not recommend this treatment if your pet has allergies or sensitive skin.
Pricing will vary dependent on the desired coloring design, amount of color and body part.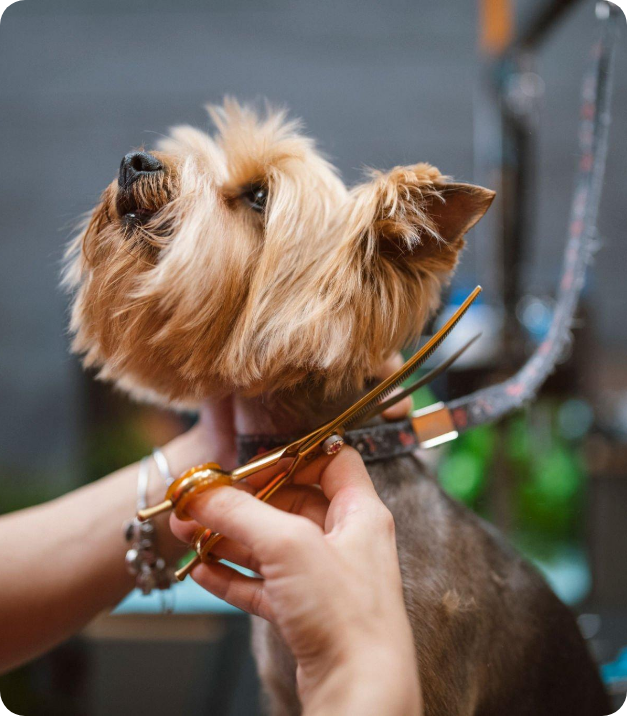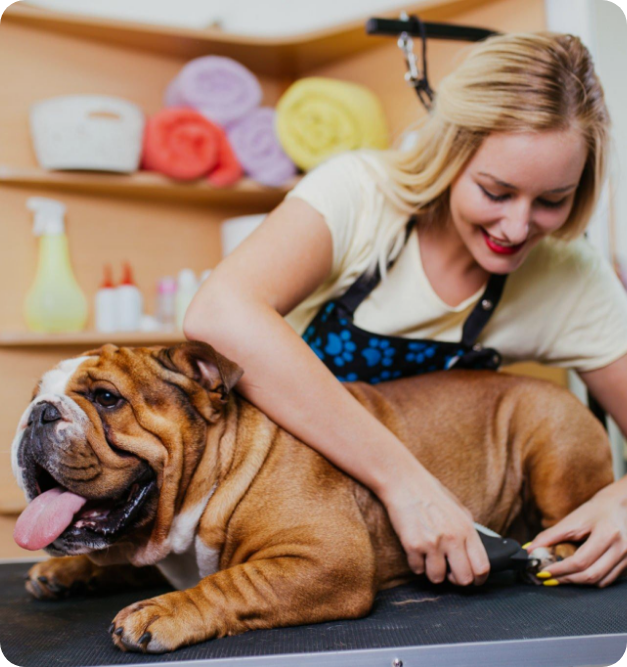 ELYSIEM SALON CREATIVE DESIGN
Creative Color Design pricing is as follows:
1.Full body single-color starting cost -$150 and $75 per hour to completion (excluding bathing/brush-out, and or demattingcost)
2.Small Paw -$25 per paw; Medium to Large Paw -$35 per paw
3.Tail: Small -$50; Medium to Large -$60 (Single coloring for ears, tail, and paws)
4.An additional $15 for multi-coloring, per color
5.Pet-friendly nail polish -$20 (only available with bathing)
Final cost depends on an agreed consultation between the client and stylist.
ELYSIEM SALON Vaccination Protocol
Vaccination is an essential component of preventive pet healthcare and an important pathway to nurturing a long-term lifestyle and pet-to-family relationship. Routine vaccination is a very important part of a pet's health. They protect our canine loved ones from several potentially fatal illnesses and reduce the risk for the spread of disease or outbreaks.
Health and wellbeing is a top priority at Elysiem ––for your dog's health and safety and for our stylists. Elysiem requires all the American Animal Hospital Association core vaccinations prior to grooming any dog and strongly recommend the AAHA non-core vaccination
Consult with your veterinarian for a better understanding that vaccination is a safe, effective, and necessary part of your dog's healthcare plan.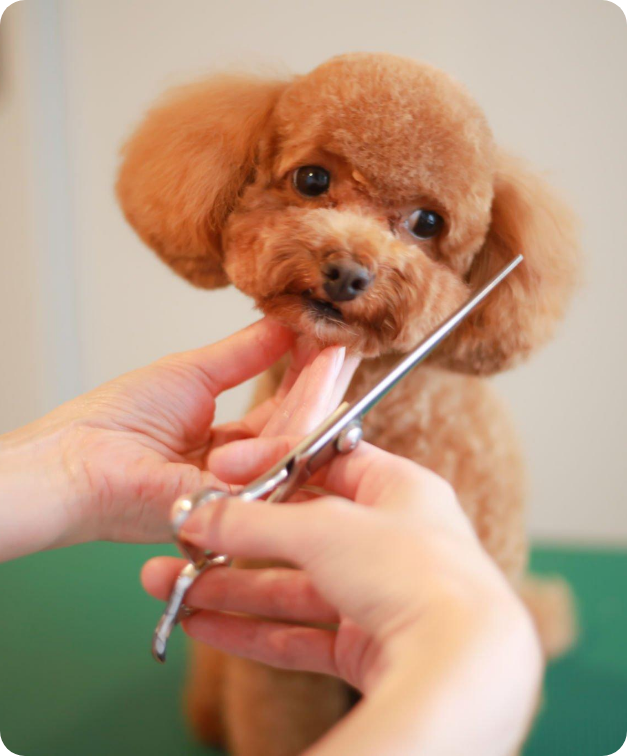 ELYSIEM SALON Vaccination Protocol
AAHA Core and Noncore Vaccines for Dogs
All dogs should have the following core vaccines:
Distemper
Adenovirus
Parvovirus
+/- Parainfluenza (often included in combination vaccines)
Rabies/ Bordetella

Other vaccines are just as essential to an individual dog's health, depending on the dog's lifestyle and risk factors. These include:
Leptospira (should be considered for most dogs based on increased prevalence)
Lyme disease
Canine influenza
American Animal Hospital Association
ELYSIEM SALON
Vaccination Protocol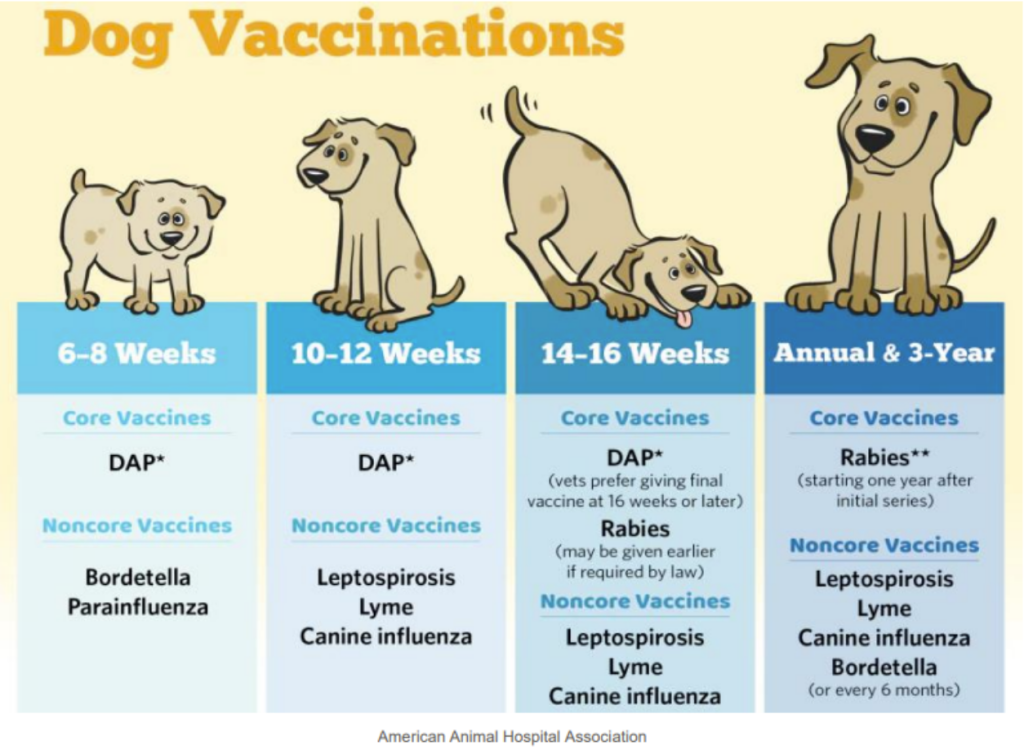 ELYSIEM SALON CLEANING PROTOCOL
Canine Influenza Protocol:
Clients should note to staff members about a dog showing signs of respiratory illness, or if a dog has recently been boarded or rescued from a shelter, has recently participated in dog-related group activities, or has been exposed to other dogs known to have canine influenza or kennel cough.
Routinely monitor dogs for signs of illness. Dogs with suspected canine influenza virus infection discovered after entry into the facility will be separated and evaluated from the facility or the pet parents will be called for pick up. The disinfection protocol of the entire facility will begin
Cleanliness is a top priority at Elysiem ––for your dog's health and safety and for our employees. Elysiem is sanitized, vacuumed and mopped nightly, and grooming stations are cleaned after each dog and at the close of business.